The Albanian Coast is one of Europe's best kept secrets.
The Great Balkan Ride may concentrate on adventure — driving off-road in places like the mountainous highlands of Montenegro and remote river valleys in Northern Albania — but there's still time to relax: it's a holiday, after all. And anybody who is new to the region will certainly be surprised by the quality of the beaches we visit on the Albanian Coast. If it weren't for the political isolation that kept the country's tourism relatively undeveloped, the Albanian Coast would surely be as famous as the islands of Greece or Spain's Costa del Sol.
Durrës
Our first stop on the Albanian coast is Durrës, or more precisely a few miles south in the town of Golem. Durrës was founded over two and a half thousand years ago, and is Albania's second largest city. Shallow waters and pristine sand make for an excellent place to relax, particularly when our hotel has a private beach. It's busy in peak season, but crowds are mostly comprised of Albanians, rather than foreigners. It's a joy to learn what the locals have long known: the Albanian coast is a great place for a holiday.
Vlorë
Our next stop on the Albanian coast, after a brief detour to the historic town of Berat, is Vlorë, Albania's third largest city. Almost as old as Durrës, the natural bay at Vlorë creates fantastic views from the beach, and we are blessed as our hotel also has a private pool. Tourism along the Albanian coast has developed massively in the decades following communism, but there's plenty time before places like Vlorë become as commercial as better known holiday resorts. However, the private pool can't compare to a dip in the sea, along with locals.
Sarandë and the Albanian Riviera
The Southern portion of the Albanian Coast, just north of Greece, is where the best treasures are hidden. We love to have lunch in Sarandë, another ancient town in a natural bay, very close to Greek island Corfu. However, great beaches are dotted all along the section of coast known as the Albanian Riviera. Dhërmi, in between Sarandë and Vlorë, is famous for its white rock and blue water. Borsh, just north of Sarandë, has the longest unbroken stretch of beach in the country. And Ksamil, just north of the Greek border and close to the ancient ruins of Butrint, is famous for the serenity of its position; it's possible to swim from the beach to three islands located in the bay.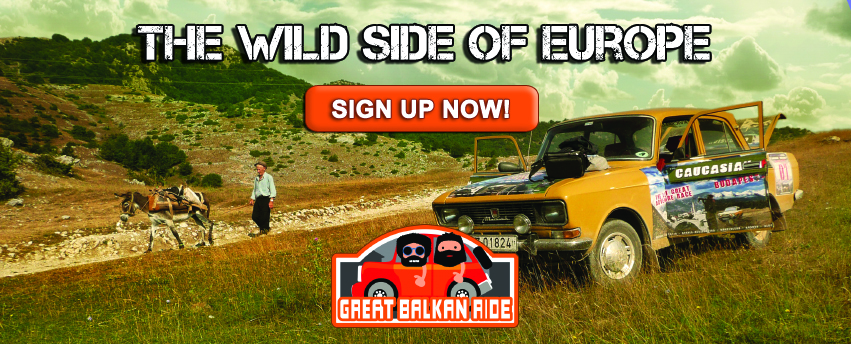 Are you crazy enough to come along for the ride? Then join us on
one of our next adventures
. Get a team together and let's see you at the starting line! If you want to join us in spirit, like us on
Facebook
or follow us on
Twitter
and
Instagram
to keep up with our latest antics.